Upcoming Training Events: Intro to ArcGIS Pro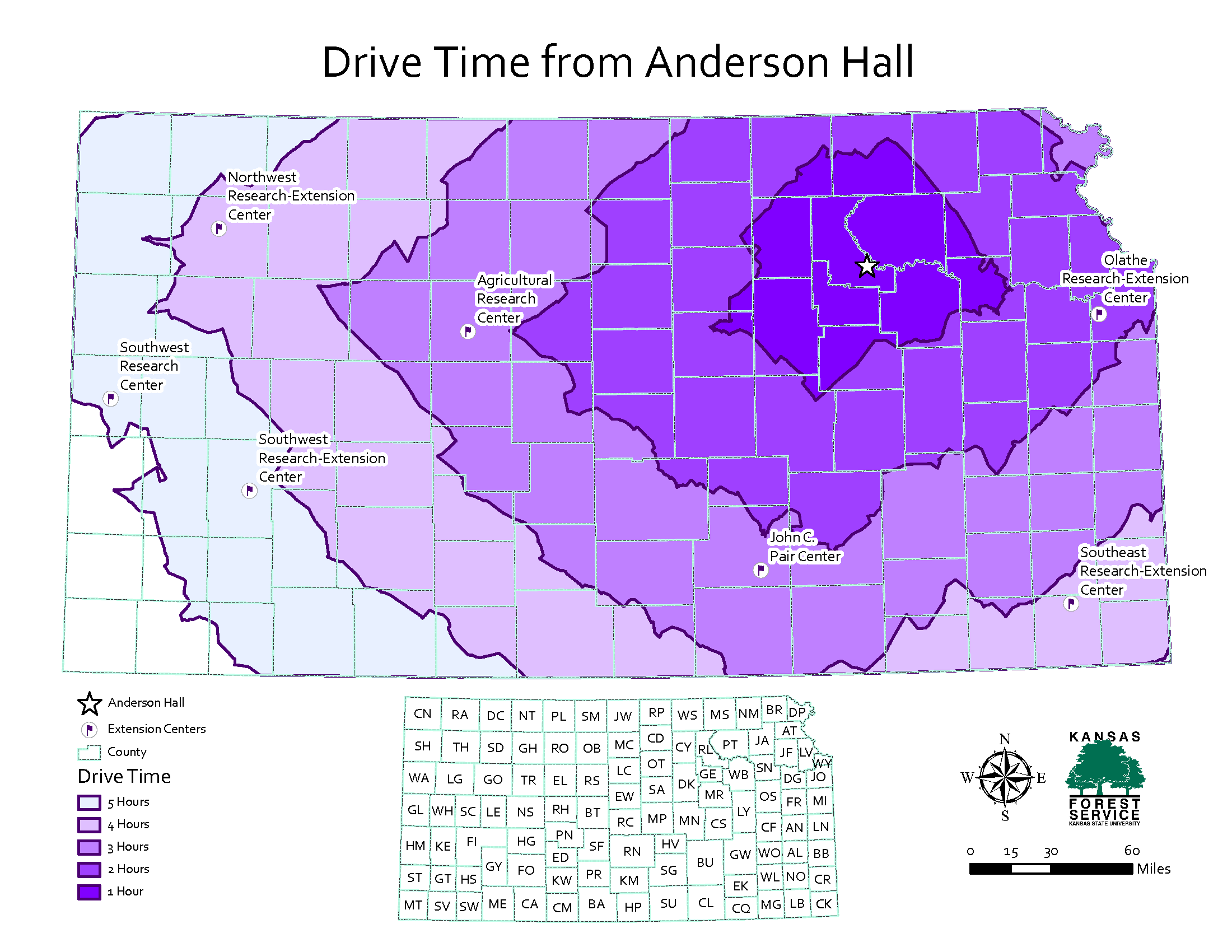 An example map made using ArcGIS Pro software.
The Natural Resources Professional Focus Team is offering an "Introduction to GIS software" training on May 23-24, 2023. This in-person, hands-on workshop will take place on the K-State campus in Manhattan.
By the end of the two-day course, participants will receive an overview of available GIS software, understand the terminology and basic functions of ArcGIS Pro, and will be able to create maps for their professional use. No prior GIS experience is required to take this training.
The agenda for this training is now available. Materials will be posted once the training is complete.
Registration for this course is now closed. If you are interested in future GIS trainings, please contact KCARE.
Recorded videos for all sessions of our theme "Water Resource Management and Irrigation in Kansas" now available!
Navigate to each day using the list on the right-hand side of this page.
This workshop series was created to provide overviews on a variety of key issues related water quality in Kansas. There were two training themes in 2021: the first focused on water quality impacts of livestock operations and grazing management, and the second theme highlighted water quality and aquatic plant management in ponds. Links to specific trainings under both themes are available on the right-hand side of this page, or you can look at the agenda.
Training Format
Using an online format, experts provided a live, 40-minute presentation followed by a discussion forum with a panel that included county agents, extension specialists or watershed specialists. Participants were encouraged to ask questions and follow up with both presenters and panelists. Participants and other interested parties can access digital online documents that include presentation slides, extension publications and other materials relevant to each topic.
These series are offered as Professional Development Event by Natural Resources PFT and the Kansas Center for Agricultural Resources and the Environment (KCARE).
Please visit the links in the right-hand menu of this page to access videos, presentations and resource materials for Theme 1 and Theme 2 training sessions. Overviews of Theme 1 (Water quality impacts of livestock operations and grazing management) and Theme 2 (Water quality and aquatic plant management in ponds) are also available.
Speakers and Panelists
These trainings were possible because of the expert knowledge and wide-ranging experience of our speakers and panelists. Presenters include KCARE watershed specialists, experts from Kansas state agencies, Kansas State University faculty members, extension specialists, county extension agents, and producers.