Flint Hills Burning
Every spring, the Flint Hills of Kansas are burned as a management tool to prevent invasion of woody vegetation and promote new growth of native grasses. Burning is a part of the natural ecosystem of the prairie and is essential to maintaining the prairie ecosystem. Environmental conditions, such as wind current, humidity, wind speed and temperature, can have an affect on the effectiveness of the burn. There have been environmental concerns expressed concerning the impact of burning on air quality and human health. A Flints Hills Smoke Management Plan has been developed and approved and is being implemented.
To learn more about the Flint Hills burning issues and management alternatives go to: www.ksfire.org
Addressing Black Carbon in Ukraine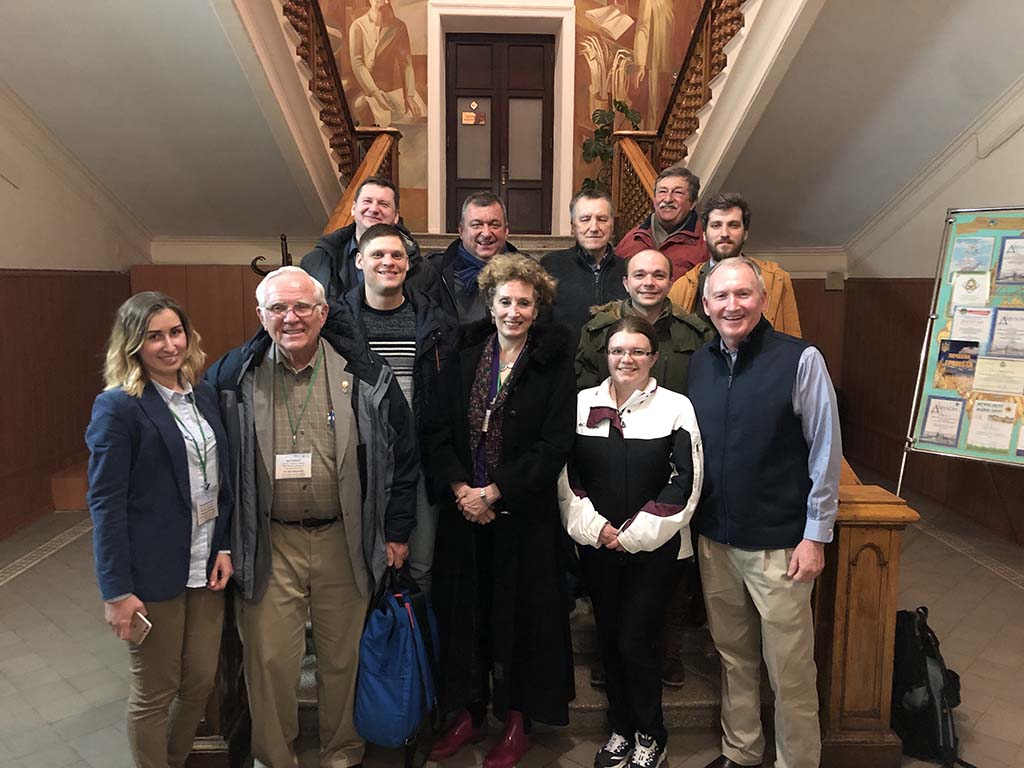 Dr. Dan Devlin with scientists at the Institute for Soil Sciences and Agrochemistry Research in Kharkov, Ukraine.
KCARE is unswerving when it comes to issues affecting agriculture in our state, but we also recognize that Kansas has a lot to offer the rest of the world: expertise, experience and a strong tradition of extension work. Recently, KCARE Director Dan Devlin spoke with farmers, researchers and government officials in Ukraine about the success Kansas producers have had with specific cropping systems and how Kansas State Research and Extension supports agricultural production here at home.
Read more about Dr. Devlin's trip to Ukraine.
Black Carbon Initiative Scientific Exchange
In 2012, two Russian scholars, Sofya Solovyeva and Artem Solopov, visited KSU to participate in the Black Carbon Initiative Scientific Exchange. They were mentored by Dr. Carol Blocksome, Dr. Michael Langemier, Dr. Dan Devlin, Dr. Jim Shroyer, Dr. Nina Lilja and Dr. Aleksey Sheshukov. The scholars traveled the state participating in consultations and field days. After their return to Russia, Dr. Carol Blocksome, Dr. Dan Devlin and Dr. Michael Langemier traveled to Russia to visit Lomonosov Moscow State University and attend the conference "Developing Options for Avoiding, Reducing or Mitigating Agricultural Burning that Contributes to Black Carbon in the Arctic".
View the Black Carbon Initiative Scientific Exchange Final Report.