CoCoRHS/Watershed Precipitation
Purpose of Project
Building on what the citizens of Fort Collins, Colorado started, the BCMSHRW is utilizing the same rain gauges to gain better resolution of precipitation patterns in the watersheds and how it affects the functionality of the streams. Using the high capacity, all-weather rain gauges, many local stakeholders including residents, farmers, and businesses are helping to track precipitation amounts and post rainfall amounts online for anyone in the watershed to view. Participants update daily precipitation to the CoCoRHS (Community Collaborative Rain, Hail and Snow) network where precipitation density maps and tables are generated for easy viewing. For more information or to view daily precipitation across the watershed log on to www.cocorahs.org.
CoCoRaHS- It's a success!
Since late 2006 BCMSHR WRAPS has added 96 gauges in 8 counties
On average, 63% of the gauge volunteers report daily
Over 90% of volunteers say CoCoRaHS benefits their daily activity planning
Every 3 months, our volunteers spend almost 215 hours reading and reporting data
In Nov. 2009, volunteers set a daily reporting record with 71% of gauges reporting every day!
We Need Your Help!

Because the project is community and volunteer based we ask anyone interested in reporting precipitation in Trego, Ellis, Russell or Ellsworth counties to please contact us. We currently have 96 rain gauges in the watershed. Gauges are on a first come first serve basis with site placement taken into consideration.
Check for site availability with the following maps (some maps require Adobe Reader or Acrobat to view).
Ellis County CoCoRaHS stations*
Ellsworth County CoCoRaHS stations*
Russell County CoCoRaHS stations*
Trego County CoCoRaHS stations*
* Change map type to 'stations' and click 'get map' to view current CoCoRaHS stations in the respective county. Not all stations report.
Hail Pads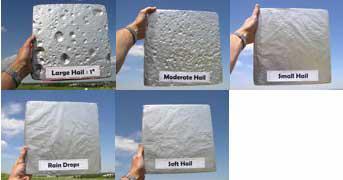 With the success of the CoCoRaHS rain gauges and the continued interest of new volunteers, this spring we will again have hail pads. Hail pads are used to quantify, much like the rain gauge, extreme weather events. The pads are made of 1 inch styrofoam coated with aluminum foil. When the hail hits the pad it leaves an indentation and from this specialized meteorologists can calculate the size, force, direction, and intensity of the hail storm. Hail pads are now available at all local county conservation district offices. For more information contact us at the information listed above.