Our Mission
Agriculture is interwoven through nearly every aspect of life in the state of Kansas. Drive down any highway, and you'll see farms or ranchland: after all, nearly 90 percent of all the land in the state is agricultural. Most of this acreage is family farms and ranches, with traditions stretching back through the generations. But the future of farming is changing, whether it's tilling techniques, water management, or the weather. With this in mind, the Kansas Center for Agricultural Resources and the Environment (KCARE) has a mission to develop and deliver knowledge that helps Kansans balance the utilization of our state's natural resources with the protection of those resources.
Kansas State University established KCARE to coordinate and enhance research, extension, and teaching activities pertaining to environmental issues related to agriculture. Our projects examine water management issues, water quality, prairie ecosystem maintenance, fertilizer research, and the effects of climate change on beef cattle production in the Southern Great Plains.
KCARE forges partnerships between K-State scientists and other research institutions to create quality solutions for the environmental issues our state faces now and into the future. Our projects examine current issues and create new innovations to offset the changing landscape; together, we can help Kansas agriculture remain successful and sustainable.
Stay current with KCARE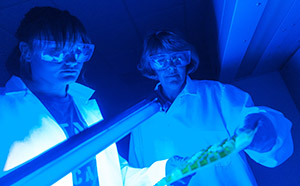 Did you know that K-State researchers are innovating new, portable methods to provide clean water for our troops? Want to learn more about how KCARE specialists help cattle producers protect Kansas waters? Read about our research and learn more about our affiliated scientists in this month's issue of KCARE Research Today, our newsletter.
Read all about it!
December 5 is World Soil Day, when we celebrate all the things soil can do! Go to our News page to learn more about this valuable resource.
What's In Your Water? Find out about your water quality and the steps you can take to affect water quality efforts across the state.
Interested in installing tire tanks for livestock watering, developing low volume springs, or installing a solar water pump? The KCARE Publications page has information on these topics and more.
Two publications have been developed about sedimentation in Kansas reservoirs and lakes.
Save
Save
Save
Save
Save
Save