What we do on our summer "vacation"
Schools are out, the skies are blue, swimming pools are doing a brisk business, and the heat is on! Summertime is one of our favorite seasons in Kansas, because with the hot weather (and occasional thunderstorm) come agricultural field days and continuing research projects and wheat tours and technology farms and extension activities and …
Well. Let's just say we're not feeling bored. Get to know more about KCARE's summertime work! We've got it all: weather, water, sand, soil, and pretty much every crop Kansas has to offer! This week, follow Watershed Specialist Stacie Minson to the rivers and creeks in Ellis, Russell and Ellsworth Counties.
Stay current with KCARE
The "Roll Out the Rain Barrel" project has built more than 6,500 barrels since 2006. This project is a partnership project among the city of Hays, Coca-Cola Enterprise, Inc., Ellis and Ellsworth County Conservation Districts, the Smoky Hill River Kanopolis Lake Watershed, Gleichsner and the FHSU Ag Department, Ellis County K-State Research & Extension (now the Cottonwood District), KSU Ag Research Center and Ellis County Master Gardeners. It was recently featured in an article from the Hays Post.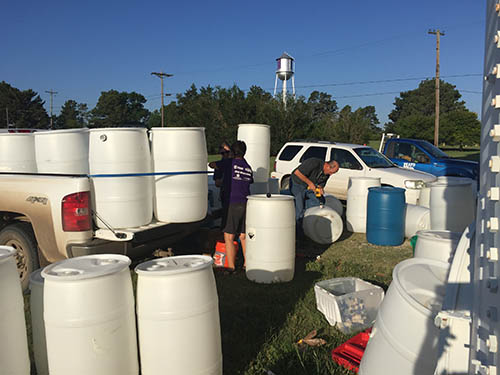 Read more about other projects in issues of our KCARE newsletter, KCARE Research Today.
Partner with us!
Kansas State University established KCARE in order to coordinate and enhance the research, extension, and teaching activities that focus on environmental issues relating to agriculture. KCARE supports research spanning multiple departments and disciplines: soil science, smoke management, cropping systems, water quality and irrigation, fertilizer research, and climate studies.
Although the core mission for us remains the same, our look is starting to change. As a part of this, we are excited to share with our updated KCARE logo. This design encompasses the connection between agriculture and the environment which is at the heart of KCARE. It is our privilege and pleasure to work with research and extension faculty, students, and members of our community to explore new ways to create quality solutions for the environmental issues our state faces now and into the future. Through our partnerships, we are helping Kansas agriculture remain successful and sustainable.
Copies of the KCARE logo are available for interested stakeholders. Possible uses include as a link to the KCARE website on personal or departmental webpages, or on brochures or handouts including KCARE-supported research. Contact KCARE for more information.
Save
Save
Save
Save
Save
Save