In The News
Recent virtual training events co-created by KCARE were featured as a Leadership Spotlight in The Drop, the monthly newsletter from the North Central Region Water Network. The June issue also highlighted K-State faculty member DeAnn Presley for her soil science research – and the beautiful artwork she creates, inspired by her scientific work.
Press Releases
KCARE is very proud to announce that one of our affiliated researchers, Jonathan Aguilar, has received the Mid-Career Award for Extension/Outreach/Engagement from the Universities Council on Water Resources. This award recognizes contributions through extension, outreach and engagement activities related to water. Read the press release.
Great Plains Grazing wins the prestigious Partnership Award for Multistate Efforts, awarded by the National Institute of Food and Agriculture (NIFA). KCARE Director Dan Devlin accepted the award on behalf of the team in a ceremony on April 25, 2019. Read the press release.
News Articles
University delegates from the Philippines discuss possible K-State collaborations during visit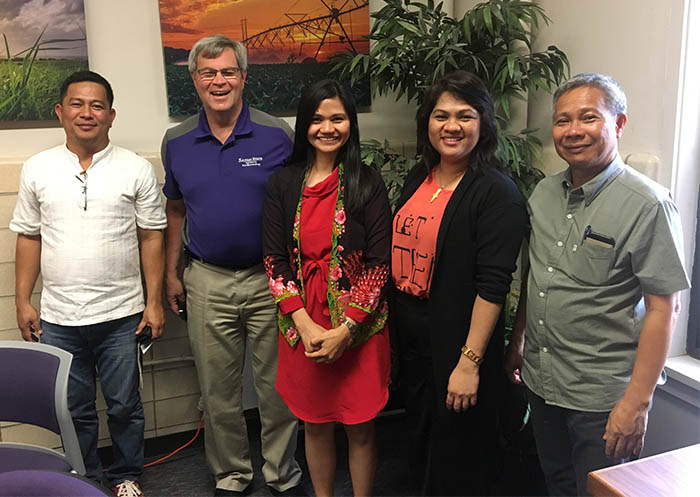 Representatives from the K-State College of Agriculture and Kansas State Research and Extension (KSRE) met with delegates from the Central Bicol State University of Agriculture to explore opportunities for student research collaborations and to discuss K-State's efforts in agricultural engineering and irrigation technology.
CBSUA, located in the Philippines, offers their students Bachelor of Science degrees in Agriculture and Agroforestry, as well as a degree programs in Agricultural Technology, according to Amelia Nicolas, Dean of the College of Agriculture and Natural Resources at CBSUA.
Dr. Nicolas and her colleagues traveled here specifically to learn more about K-State's efforts to innovate new technologies in agricultural engineering as well as our current advances in irrigation management, irrigation scheduling tools and other technologies. Other topics included drought mitigation and agritourism.

While at K-State, the visiting scientists had the opportunity to meet with several representatives from the College of Agriculture, as well as with KCARE Director Dan Devlin and KSRE Associate Director Gregg Hadley. These meetings provided an opportunity to compare K-State's unique extension model with that of the Philippines and to learn how a partnership can benefit both programs.

"[In the Philippines], there is an imbalance between industry and the agricultural sector," said Professor Hanilyn Hidalgo, CBSUA International Relations Officer. "We are trying to get youth to stay in agriculture."

Discussions ranged from the idea of student exchanges to the possibility of internship exchanges within KSRE. Extension specialist Jonathan Aguilar will also take the group to several destinations in western Kansas, including some experimental fields and water technology farms.
Solutions for farm ponds in light of water scarcity
KCARE Watershed Specialist Herschel George spoke with Eric Atkinson on the April 18, 2018 episode of "Agriculture Today" about the current drought and how it's affecting farm ponds in Kansas.
With severe drought creeping across most of the state, producers are finding water resources on their properties dwindling. George said that, although ponds in eastern Kansas are still relatively full, ponds further west are not.
"It's a disaster waiting to happen," he said.
Listen to the entire program, or skip to 1:42 to learn more about the steps producers can take to restore existing ponds, as well as other alternative and cost saving possibilities for providing water sources. There is more information about developing livestock water resources on the KCARE Publications page.
KSRE and KCARE join national irrigation partnership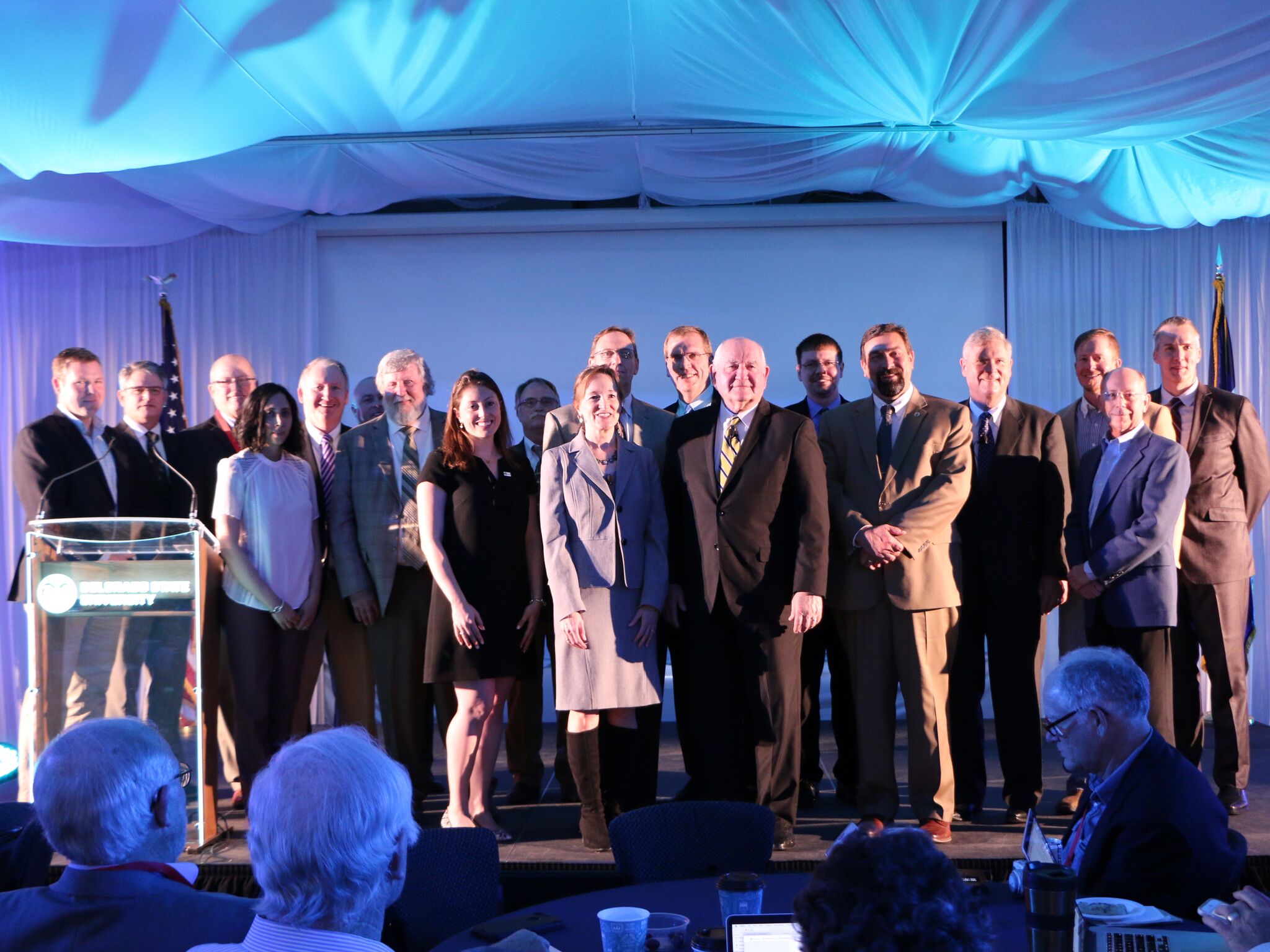 KCARE Director Dan Devlin was on hand to help launch the new Irrigation Innovation Consortium, a $5 million grant from the Foundation for Food and Agriculture Research (FFAR). The Consortium is a collaborative research effort to accelerate the development and adoption of efficient irrigation technologies and practices through public-private partnerships.
K-State, in partnership with four other universities and several industry partners, will match the FFAR grant money for a total initial investment of $10 million to support irrigation technology research and collaboration costs over five years. Learn more about the Consortium's goals and vision for a sustainable water future.
December 5 is World Soil Day
Ever thought about what's under your feet? It's not just dirt, folks ... it's SOIL. On December 5, we focus on the importance of healthy soil and champion the cause of sustainable management of soil resources. Want to know more about this valuable resource? K-State soil scientists can give you the, er, dirt about this amazing resource!

K-State Distinguished Professor Speaks at the UN
Gary Pierzynski, university distinguished professor and head of K-State's agronomy department is speaking at the U.N. Headquarters in New York City as part of the World Soil Day events. Pierzynski will represent the Food and Agriculture Organization Intergovernmental Technical Panel on Soils at the U.N. celebration and announce the release of a report titled "Global Assessment of the Impact of Plant Protection Products on Soil Functions and Soil Ecosystems."
Fun Trivia about Soil
Ever wonder how many worms are in an acre of soil? Or how long it takes to create an inch of topsoil? Check out these facts from the Audubon Society about this important resource. Do you have your own soil trivia? Post them to our Twitter account, @KStateKCARE!
Soil Science: A New Frontier
We count on soil for more than just growing plants. Soil is home to millions of microorganisms, it helps create clean water, and soil is part of a system that sequesters carbon to regulate our climate. Want to learn more? K-State professor Chuck Rice explains why we celebrate World Soil Day.