Special Events in Our Kansas Watershed
Annual Water Poster Contest
KSU Big Creek Middle Smoky Hill River Watersheds and the City of Hays are sponsoring the Annual Water Poster Contest.
The theme for the 2020 posters is "Healthy Soils = Healthy Water". If teachers or schools are interested, we can provide presentations for your students explaining how healthy soils and healthy water work together. Because we want to make sure that all the students in our community have a chance to participate, we have provided paper, markers, crayons and colored pencils for classroom teachers in each school office. Also included for schools are the Do Your Part…Be Water Smart in 2020 calendar. This features all the 1st place poster winners from 2019. Three of the winners are pictured above.
We appreciate your support of this educational opportunity that encourages students and families to learn more about soils, water and their environment through art. Additional information and details about this contest are available in the Poster Contest Rules. For questions or more supplies, please contact Stacie Minson, 785-769-3297.
National Fix-a-Leak Week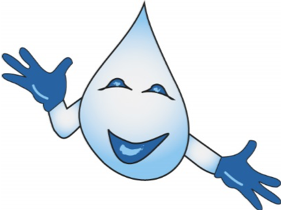 So, how do you know if you have water leaks in your home? The best place to start is to look at water usage during winter months possibly in January, February, or March before outdoor watering starts. If a family of four is exceeding 12,000 gallons of water/month, leaks may be the culprit. If you have access to your water meter, check and record the reading and after two hours of NO water use, and then check the reading again. If the meter readings change, you must have leaks somewhere inside your home.
So now you know you've got leaks. Today is the perfect time to find those leaks and get them fixed.
Toilet leaks are easily found and quickly fixed.
Examine faucet gaskets and pipe fittings in the kitchen, bathroom, etc. to see if water if visibly present.
Maintain outdoor irrigation systems.
Replace toilets, showerheads, faucets and appliances if you still need to reduce your monthly water usage footprint.
To learn more about water leaks, visit EPA's WaterSense Fix-a-Leak Week homepage.