Flint Hills Burning
Every spring, the Flint Hills of Kansas are burned as a management tool to prevent invasion of woody vegetation and promote new growth of native grasses. Burning is a part of the natural ecosystem of the prairie and is essential to maintaining the prairie ecosystem. Environmental conditions, such as wind current, humidity, wind speed and temperature, can have an affect on the effectiveness of the burn. There have been environmental concerns expressed concerning the impact of burning on air quality and human health. A Flints Hills Smoke Management Plan has been developed and approved and is being implemented.
To learn more about the Flint Hills burning issues and management alternatives go to: www.ksfire.org
Addressing Black Carbon in Ukraine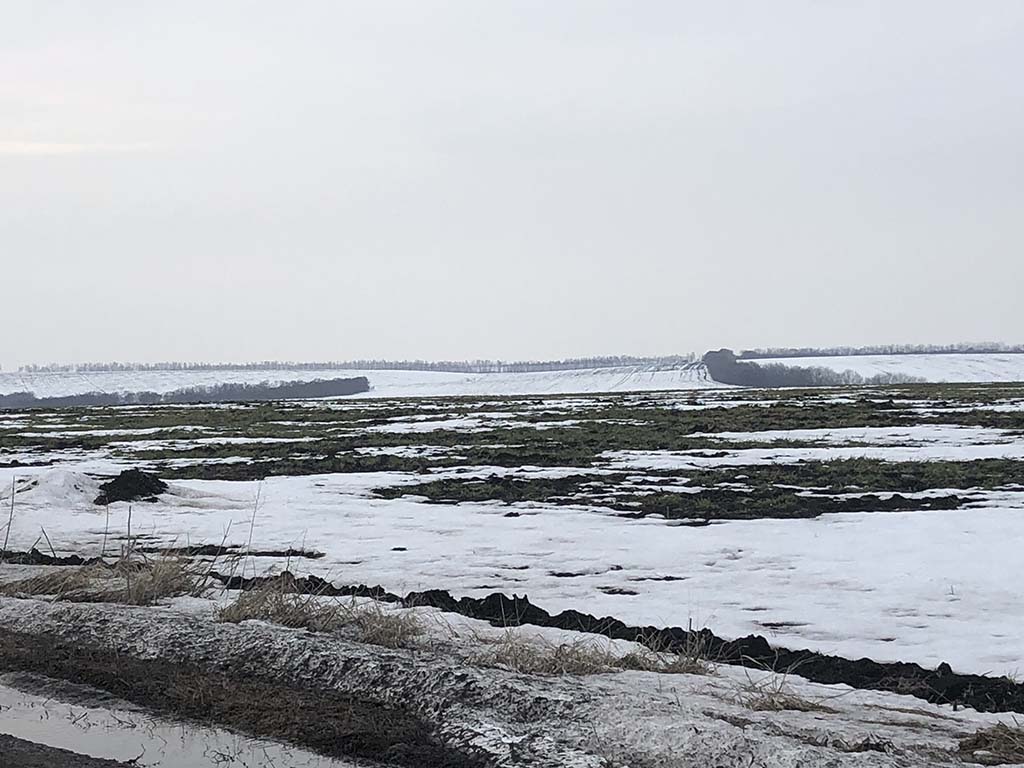 Dr. Dan Devlin visited farms outside of Kharkov, Ukraine, where winter snow still covers the fields and windbreaks.
When someone mentions the crops wheat, corn and sunflowers, the location that comes to mind is probably not Ukraine. It turns out, though, that this eastern European country has quite a lot in common with the Sunflower State; most of its land is agricultural, and agriculture is its largest export industry. When the country was still a part of the Soviet Union, it also produced a lot of livestock.
The dissolution of the Soviet Union led to the loss of the livestock industry, which caused another shift in Ukrainian farming: with no cattle to graze the crop stubble, farmers started using fire to eliminate the leftover crop residue after each growing season. This type of burning was also practiced in Kansas in the past. Today, these regular burns create a lot of black carbon in Ukraine, which in turn has a big impact on the world's climate.
Kansas meets Kiev
Today, however, Ukraine wants to revitalize its agricultural sector while moving toward meeting European Union requirements for conservation and climate. With support from the International Cryosphere and Climate Initiative (ICCI), Dr. Devlin was able to share ideas about how farmers in Ukraine can move from full tillage to conservation tillage or no till. Using examples from Kansas farms, he explained that these cropping strategies could help eliminate the need for burning, which would then greatly reduce the amount of black carbon.
Dr. Devlin's presented his remarks to a large group of academics, representatives from government agencies and farmers at the National Institute for Soil Sciences and Agrochemistry Research in Kharkov, a city located less than 20 miles from Ukraine's border with Russia. He presented an overview of Kansas climate and crops, as well as an in-depth look at the benefits of converting from traditional tillage to conservation tillage or no till. These benefits included: increased yields, improved soil moisture, savings on fuel cost, a decrease in topsoil loss and fewer environmental impacts, such as black carbon.
Black Carbon Initiative Scientific Exchange
In 2012, two Russian scholars, Sofya Solovyeva and Artem Solopov, visited KSU to participate in the Black Carbon Initiative Scientific Exchange. They were mentored by Dr. Carol Blocksome, Dr. Michael Langemier, Dr. Dan Devlin, Dr. Jim Shroyer, Dr. Nina Lilja and Dr. Aleksey Sheshukov. The scholars traveled the state participating in consultations and field days. After their return to Russia, Dr. Carol Blocksome, Dr. Dan Devlin and Dr. Michael Langemier traveled to Russia to visit Lomonosov Moscow State University and attend the conference "Developing Options for Avoiding, Reducing or Mitigating Agricultural Burning that Contributes to Black Carbon in the Arctic".
View the Black Carbon Initiative Scientific Exchange Final Report.