University delegates from the Philippines discuss possible K-State collaborations during visit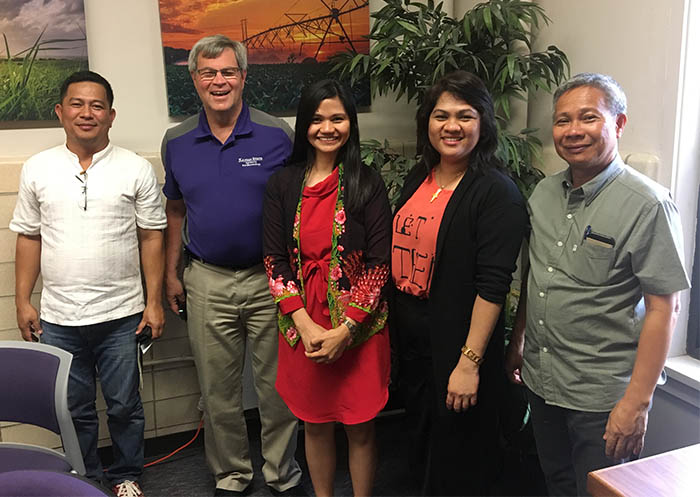 Representatives from the K-State College of Agriculture and Kansas State Research and Extension (KSRE) met with delegates from the Central Bicol State University of Agriculture to explore opportunities for student research collaborations and to discuss K-State's efforts in agricultural engineering and irrigation technology.
CBSUA, located in the Philippines, offers their students Bachelor of Science degrees in Agriculture and Agroforestry, as well as a degree programs in Agricultural Technology, according to Amelia Nicolas, Dean of the College of Agriculture and Natural Resources at CBSUA.
Dr. Nicolas and her colleagues traveled here specifically to learn more about K-State's efforts to innovate new technologies in agricultural engineering as well as our current advances in irrigation management, irrigation scheduling tools and other technologies. Other topics included drought mitigation and agritourism.
While at K-State, the visiting scientists had the opportunity to meet with several representatives from the College of Agriculture, as well as with KCARE Director Dan Devlin and KSRE Associate Director Gregg Hadley. These meetings provided an opportunity to compare K-State's unique extension model with that of the Philippines and to learn how a partnership can benefit both programs.
"[In the Philippines], there is an imbalance between industry and the agricultural sector," said Professor Hanilyn Hidalgo, CBSUA International Relations Officer. "We are trying to get youth to stay in agriculture."
Discussions ranged from the idea of student exchanges to the possibility of internship exchanges within KSRE. Extension specialist Jonathan Aguilar will also take the group to several destinations in western Kansas, including some experimental fields and water technology farms.
Solutions for farm ponds in light of water scarcity
KCARE Watershed Specialist Herschel George spoke with Eric Atkinson on the April 18, 2018 episode of "Agriculture Today" about the current drought and how it's affecting farm ponds in Kansas.
With severe drought creeping across most of the state, producers are finding water resources on their properties dwindling. George said that, although ponds in eastern Kansas are still relatively full, ponds further west are not.
"It's a disaster waiting to happen," he said.
Listen to the entire program, or skip to 1:42 to learn more about the steps producers can take to restore existing ponds, as well as other alternative and cost saving possibilities for providing water sources. There is more information about developing livestock water resources on the KCARE Publications page.
KSRE and KCARE join national irrigation partnership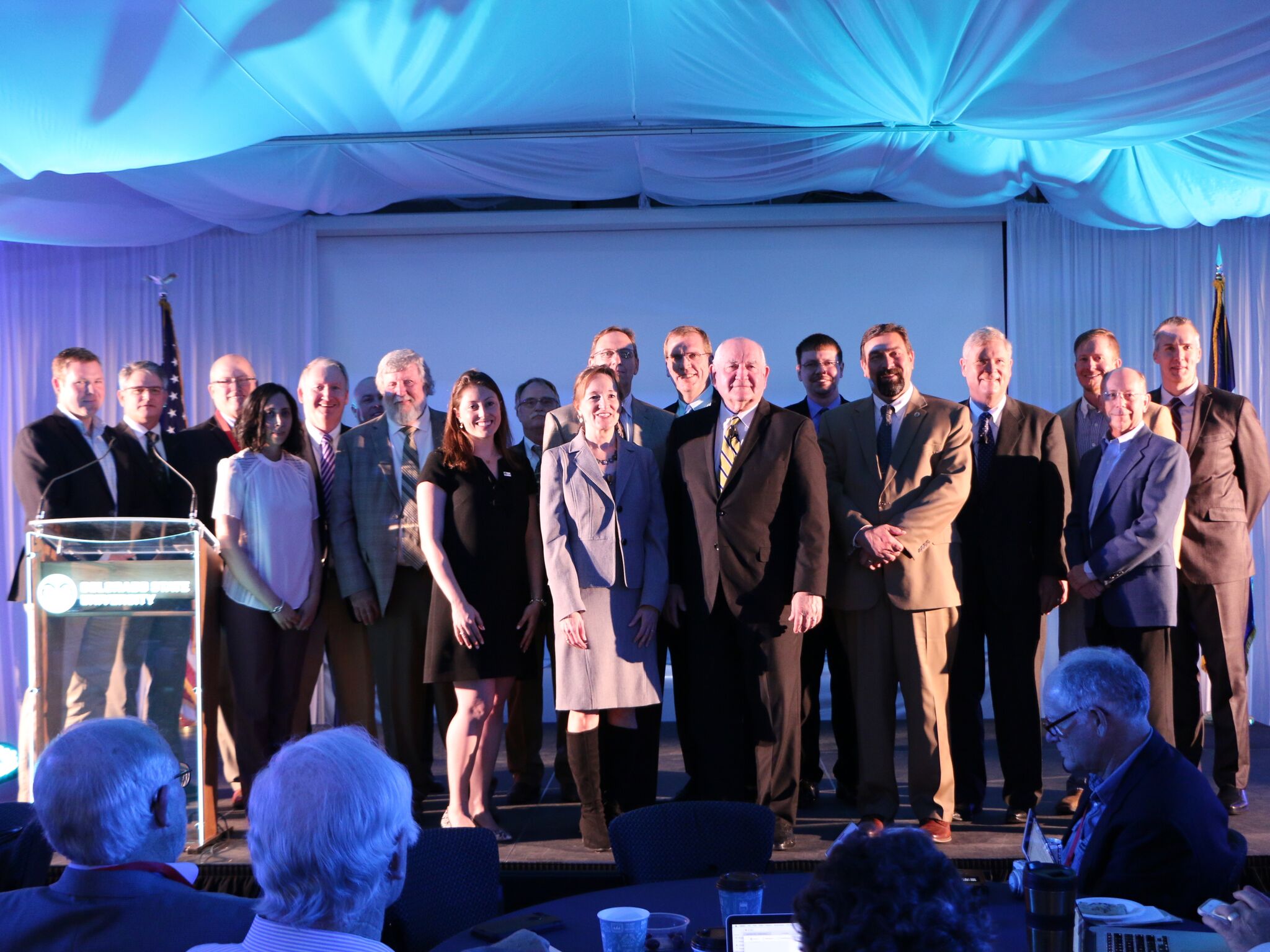 KCARE Director Dan Devlin was on hand to help launch the new Irrigation Innovation Consortium, a $5 million grant from the Foundation for Food and Agriculture Research (FFAR). The Consortium is a collaborative research effort to accelerate the development and adoption of efficient irrigation technologies and practices through public-private partnerships.
K-State, in partnership with four other universities and several industry partners, will match the FFAR grant money for a total initial investment of $10 million to support irrigation technology research and collaboration costs over five years. Learn more about the Consortium's goals and vision for a sustainable water future.
Stay current with KCARE
K-State research faculty and extension specialists play a large role in the efforts to conserve and improve water quality in Kansas. This video, from K-State Research and Extension, highlights several of our KCARE-affiliated researchers: from cover crop field studies to improved irrigation technology to the important work of our watershed specialists. Read more about other projects in issues of our KCARE newsletter, KCARE Research Today.
Call for Proposals
USDA's Natural Resources Conservation Services (NRCS) has announced the availablility of Conservation Innovation Grants (CIG) for 2018. Check out KCARE's Funding Opportunities page for more information.
Out with the old, in with the new
Kansas State University established KCARE in order to coordinate and enhance the research, extension, and teaching activities that focus on environmental issues relating to agriculture. KCARE supports research spanning multiple departments and disciplines: soil science, smoke management, cropping systems, water quality and irrigation, fertilizer research, and climate studies.
Although the core mission for us remains the same, our look is starting to change. As a part of this, we are excited to share with our updated KCARE logo. This design encompasses the connection between agriculture and the environment which is at the heart of KCARE. It is our privilege and pleasure to work with research and extension faculty, students, and members of our community to explore new ways to create quality solutions for the environmental issues our state faces now and into the future. Through our partnerships, we are helping Kansas agriculture remain successful and sustainable.
Copies of the KCARE logo are available for interested stakeholders. Possible uses include as a link to the KCARE website on personal or departmental webpages, or on brochures or handouts including KCARE-supported research. Contact KCARE for more information.
Save
Save
Save
Save
Save
Save