Award-winning research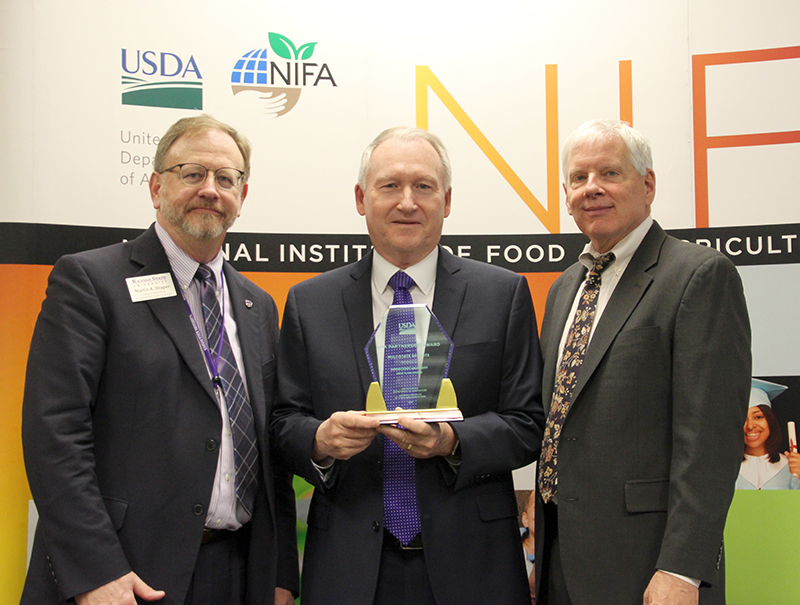 From left, Martin Draper, K-State College of Agriculture interim associate dean for research and graduate programs, Dan Devlin, Great Plains Grazing project leader and KCARE director, and J. Scott Angle, director of NIFA, at the annual NIFA Partnership Awards in Washington, D.C. on April 25. Photo courtesy of Kansas State University
Great Plains Grazing, a project that aligns the efforts of four Midwestern universities and two other groups dedicated to improving grazing practices for beef cattle in the Great Plains has received national recognition for its work.
The Great Plains Grazing project has been selected for a Partnership Award for Multistate Efforts by the National Institute of Food and Agriculture (NIFA), which cited the group's "outstanding efforts to strengthen the stewardship of private lands through technology and research."
"This award is a testament to the significant efforts of all the collaborators involved in Great Plains Grazing," said Dan Devlin, project leader and director of the Kansas Center for Agricultural Resources and the Environment (KCARE) at Kansas State University. "This research is important not only for projecting how climate change will affect the beef grazing industry but also how to manage that industry more successfully through future drought conditions."
Climate Change
The iconic image of a cattleman gazing out on the slowly waving grasses of the Great Plains while sitting on horseback is a picture familiar to everyone. Nowadays, the cattle industry looks a lot different from that charming depiction, but it's not only the tools and technologies of modern cattle ranching that have transformed: drought, flooding, extreme heat, subzero temperatures and other changes in the climate can threaten this billion-dollar industry. For this reason, a team of researchers are working hard to find solutions so that cattle ranchers in Kansas and the rest of the southern Great Plains can better adapt to any future climate extremes in their grazing operations. It's all part of a $9.6 million, five-year grant from the US Department of Agriculture that partners KSU scientists with other researchers from Oklahoma State University, University of Oklahoma, USDA-Agricultural Research Service, Noble Foundation, and Tarleton State University. Dr. Dan Devlin, KCARE Director, is the overall project director.
The team works with ranchers and farmers to evaluate management practices and then use those findings to suggest changes for better resiliency. Specifically, the project focuses on improved grazing management, increased water use efficiency, more diversified forage sources, development of multiple marketing options, strategic drought planning, improved soil and water quality, and ways to provide more stable farm household incomes.
Over half of the nation's beef supply is produced on permanent grazing lands and wheat pasture in the Southern Great Plains, including Kansas. Protecting this vital supply from the stresses of climate variability is one key to ensuring the success of this region's ranchers as well as protecting our nation's food security.
For additional information either contact Daniel Devlin (ddevlin@ksu.edu), or http://www.greatplainsgrazing.org/
For information on the Soil Carbon Center
at KSU, please contact
Chuck Rice
, or the
soilcarboncenter.k-state.edu/