Big Creek and Middle Smoky Hill Watersheds
Who We are and What We Do
The Big Creek Middle Smoky Hill River Watershed Restoration And Protection Strategies (WRAPS) project began in November 2003 as a process where local agriculture producers, rural residents, along with city, county and state government could identify water quality and quantity concerns. The WRAPS group coordinates these efforts within the 2,400 square miles the watersheds encompassing reaching into portions of 10 counties in west-central Kansas which is home to Big Creek, the Smoky Hill River, and Kanopolis Reservoir. Since then much has changed in the process but much remains the same as we are committed to serve and educate the citizens of the watershed on water protection strategies. The program was initiated to protect and/or improve water resources in the area by serving as a liasion between the producer/citizen and federal government programs.
Annual Water Poster Contest
The Big Creek and Middle Smoky Hill Watersheds, along with the City of Hays, is sponsoring a water conservation and water quality poster contest. This year's theme is "Do your part ... be water smart!" The contest is open to anyone, from preschoolers to adults; cash prizes will be awarded to class winners (for school-aged children), as well as for overall winners in each age category. Posters should focus on water conservation and/or water quality issues in the Hays community; entries are due by Friday, March 8. See poster rules for more details!
National Fix-a-Leak Week
So, how do you know if you have water leaks in your home? The best place to start is to look at water usage during winter months possibly in January, February, or March before outdoor watering starts. If a family of four is exceeding 12,000 gallons of water/month, leaks may be the culprit. If you have access to your water meter, check and record the reading and after two hours of NO water use, and then check the reading again. If the meter readings change, you must have leaks somewhere inside your home.
So now you know you've got leaks. Today is the perfect time to find those leaks and get them fixed.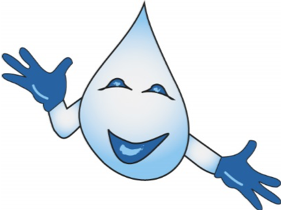 Toilet leaks are easily found and quickly fixed. There are two options to check leaks in the toilet tank: 1) place a drop of food coloring in the tank, if any color shows up in the tank after 10 minutes, there is a leak. (Flush immediately to prevent stains in the tank); or 2) use toilet dye tabs (more convenient) that are placed in the tank and if, within 10 minutes, color shows up in the tank, the toilet has a leak. These leaks can usually be stopped with an inexpensive flapper replacement.
Examine faucet gaskets and pipe fittings in the kitchen, bathroom, etc. to see if water if visibly present. Sometimes faucets are leaking because of a worn gasket or washer. Showerheads may leak and just need to be tightened, an 'o' ring replaced, or Teflon tape replaced.
Outdoor irrigation systems: with the arrival of spring, it's now time to ensure there was no freeze/thaw damage in the underground irrigation network. Once systems are turned on, it may be difficult to see or measure these leaks until after the first billing cycle, but could waste thousands of gallons per month.
Replacement of toilets, showerheads, faucets and appliances may be the next step if you still need to reduce your monthly water usage footprint. Some communities offer free exchange programs for showerheads and faucets and rebates for toilets and appliances.
To learn more about water leaks, visit EPA's WaterSense Fix-a-Leak Week homepage.
Do the Green Thing: Protect the Waterways
Watershed Specialist Stacie Minson gives some good reasons why cleaning up your pet waste isn't just about keeping your lawn looking good – that pet waste can also affect water quality in our communities. Just taking a few seconds to bag up that waste makes a world of difference! To learn more about this issue, forward to 4:07 in the video clip.
Watershed Project Information
In 2011, the WRAPS group developed a 9 Elements WRAPS Plan to address the needs to improve water. The 9 Elements WRAPS Plan was approved on November 29, 2011 by the Kansas Department of Health & Environment and forwarded to the Environmental Protection Agency for approval. The WRAPS project involves partnerships to achieve the common goals to protect and keep sustainable a clean and safe water supply.
The 9 Element WRAPS Plan includes six priority subwatersheds (188,072.3 acres) in Ellis, Russell, and Ellsworth counties to focus on implementation of best management practices (BMPs) in order to reduce pollutant loading in local waters. The map above also depicts the priority areas noted as Target HUC 12s. The priority goals of the WRAPS Plan include: Cropland Targets (sediment, nitrogen, and phosphorus); Grassland/Rangeland Targets (sediment, nitrogen, phosphorus, and E. coli bacteria); and Urban/Residential Targets (sediment, nitrogen, phosphorus, and E. coli bacteria). In working to improve the cropland targets, best management practices (BMPs) will be installed that could include: grassed waterways, conversion to minimum tillage or no-till, terraces, and buffer strips. Grassland/Rangeland target improvements could include: rotational grazing, reducing stocking rates, brush management, and alternative water supplies. To meet the Urban/Residential targets, improvement may need to occur at local waste water treatment plants, efforts by residents to pick up after pets and disposing of pet waste properly, proper placement and amount of lawn fertilizer, and conversion to xeriscape landscapes.
View the 9 Element WRAPS Plan.
Water Quality Terms
Watershed – the area of land which supplies water to a stream and its tributaries by direct runoff and by groundwater contribution.
Watershed Restoration And Protection Strategy (WRAPS) -- a plan of restoration and protection goals and actions for the surface and groundwaters of a watershed.
Total Maximum Daily Load (TMDL) -- the amount of a pollutant that a stream or lake can received and still meet water quality standards.
Pollutants -- harmful substances that contaminate the air, soil, or water.
Best Management Practice -- methods and practices such as good housekeeping, spill prevention, or treatment measures to prevent or minimize pollutant discharges to a water body.
Point Source Pollution – pollution coming directly from a pipe or from a source that has a permit to operate and must contain and apply waste loading as required by their permit.
Non-Point Source Pollution – pollution discharged other than through a pipe or ditch over a wide land area, originating from different sources, which enter water bodies through run-off or snowmelt and deposits the pollutants into ground or surface waters.
Contact Us
Stacie Minson
BCMSHR Watershed Specialist
120 N. Main St
WaKeeney, KS 67672
785-814-7100
785-769-3297 cell
785-743-5276 fax
sedgett@ksu.edu